Soundtrack:
The Smiths / Meat is Murder
Well, I got the photos back but really there's just far too many of either my cock or someone elses privates to put up here.
They are up somewhere on the internet. Let's see how good you are at stalking.
Anyway, as I am busy being a beaver, gnaaw not reeally, I'll just share with you Oh Lovers of Puns the very first thing that greeted us when we walked out the door of Nadi Airport.
I knew we were in the right place...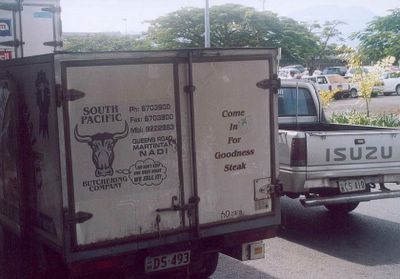 Oh joy.
Omar.
x